Thirty is like the new eighteen. Really, I heard this on NPR, it must be true. Hope you have a wonderful birthday, and a year full of amazing things! Best wishes- Natty
This was supposed to be in the first post! LOL
Happy Birthday, love!!!! Hope you have a wonderful 30th. In a perfect world, I would live right next door and be chillin with you!! 
Just want to take a moment to say (i.e. get emo) and tell you how much I love you. I feel so incredibly lucky to have you in my life. Sometimes, it's hard to believe it's been almost a year. Other times, I think 'how the hell has it only been a year????' I feel like I've known you half my life :) 
Can't wait for live hugs and ridiculous amounts of squee in NOLA next spring!
Kisses and hugs and lots and lots of love! Oh and this:
Love you, baby!! 
-Becci 
I hope that you have a really fabulous birthday and that your thirties bring you lots of joy and happiness. Don't worry, they really aren't as bad as you think. They say women don't reach their sexual peak until they're in their thirties, so think of all the fun you have to look forward to! :P (And all the smutty fics you'll write us because of it) *smirks*.
You are the first fanfic author/girl that I talked to, and I'm so honored to now call you my friend. You've been the best role model and mentor a girl could ask for and I'm forever indebted to you for that. I can't wait to meet you in person.
I wish you many happy returns of the day, sweets!
Love, hugs, and kisses,
Lashawn
Only us really aged ones get the title of cougar… rawr! 
Hope you're enjoying turning 30, because it's a helluva lot more fun than turning 40!  ;)  I may not be able to celebrate with you now, but we'll make up for it in NOLA… and I can't freakin' wait!!
Enjoy your day Holly, so glad I still get to be a part of it in some small way.  Love & Loins!  xoxo BCWCIP
Hope you have a wonderful day pretty girl!  Do something special!  30 is good!  35 is a little depressing….but 30 is good!!! 
I really hope I did this right…lol… I can never get enough of jumping Rob…heehee
HAPPY BIRTHDAY!!!
No lie, when I turned 30 I refused to get out of bed for four days. Yup. Mr. Myg was NOT happy with me, especially since he made these nice plans to take me to the city for dinner and anyway, I didn't go but I always regretted it because honestly? Thirty was a great age. I just didn't know it until it was almost over.
Hope that you have a much better 30th than I did! Hope the year brings you all your heart desires.
xoxo
(Oh, PS? Anyone clicking on my tumblr name here should be forewarned my account is NSFW, like, at all. Or for most places where you might find polite company.)
Not even going to play, I did NOT make that pretty picture.  Google is my friend.  However, I just wanted to take a moment and wish you a very happy birthday!  I hope it's a wonderful day and filled with happiness, scruff, and sexy men (or women, because well, why the hell not?).  

Have a lovely one!

<3 LSD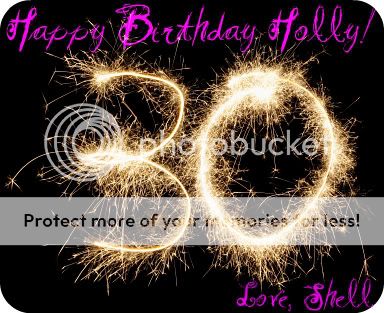 Happy Birthday, Sweetie! Thirty isn't so bad. Though I admit I live in denial and still claim 29 more often than not. I hope this new decade brings an abundance of love, laughter, and happiness to your life. I feel blessed to count you among my friends. Wish I could be there to celebrate with you!
Love, Shell